Sorry if this is a dupe, but after reviewing some 20 or so threads, nothing showed up???
Have removed the 4 rear control arms on my 75 and have ordered this set of bushings from Summit: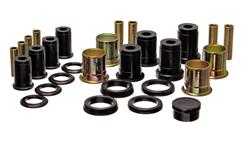 A couple of questions:
Summit say the outer sleeves on the upper control arms need to be reused. Is that your experience?
What's the best method of lubricating the old/new bushings to help with the removal and install?
And, what kind of reinforcing is necessary to prevent warping when putting the arms on a press?
Also found this pic in another thread and this is what I'm dealing with. BTW, what purpose do the weights serve?