Quick info about the car for context:
It has a 6.0l LS with a Texas Speed MS3 cam (238/242deg .600"/.600", 113LSA), and PRC CNC ported LS2 heads.
TH400 transmission, 9" Ford rearend, and 235 drag radials. At high altitude, it usually runs high 11's or low 12's, depending on the air. No nitrous, blowers, or anything crazy.
Early on in the build process, I ditched the stock rear control arms because I ruined them while trying to install new bushings.
As far as I know, UMI is the only company that makes off the shelf rear control arms for H-Bodies, so I got all 4 adjustable.
In the third round of a bonus race before the final points race at Bandimere, I heard a bang at launch and got out of it. This is what I found when I got back to the pits: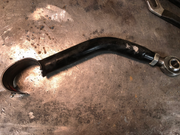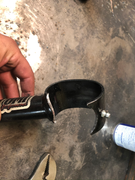 That's the drivers side upper control arm. The passenger side has a crack in it also that looks like it was about to go: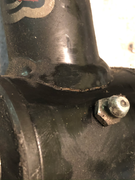 Sure glad it happened at the starting line and not the finish line. Probably would have put me in the wall at 100+mph.
There's a few things I find wrong with these UMI parts:
1. They're made of mild steel, not chromoly
2. The bushing pocket metal is very thin
3. The bent design makes it flex in such a way that it constantly stresses one side of the weld going to the bushing pocket on acceleration, and bends it back the other way when braking.
If you have these on a moderately fast drag car, I think it's only a matter of time before they break like mine did.